20 Delicious Oatmeal Breakfast Recipes
Do you ever wake up in the morning lacking inspiration for breakfast? I know that I do! Then occasionally I will have breakfast ready for my boys when they wake up in the morning but when they come downstairs they might ask for something completely different. And who can resist such a cute little face?
20 Delicious Oatmeal Breakfast Recipes
I love making oatmeal and some of these oatmeal breakfast recipes are perfect to serve. We even for snacks occasionally. Oatmeal is inexpensive, filling, and can be very tasty. Plus my two year old thinks it's a wonderful treat! It's also nice to have a warm breakfast on those cold winter days and a big bowl of oatmeal fits the bill.
I've previously posted on How to Make Perfect Oatmeal and shared with you some of my favorite oatmeal add-ins, and today I've got another great list of oatmeal recipes to share with you!
–If you are wanting to make oatmeal for breakfast in a hurry, you might also enjoy this article on how to make your own Instant Oatmeal Packets…so easy!
Oatmeal Breakfast Recipes
"Breakfast isn't supposed to be full of chocolate-y goodness, right? I prefer this for dessert but you can eat it for breakfast and I won't say a word!"
My Plant Based Family – Cherry Chocolate Oatmeal
–I love chocolate in my breakfasts, especially in this Homemade Chocolate Chip Bagel Recipe.
---
"This Caramel Apple Oatmeal is a fun, seasonal way to change your normal bowl of oatmeal into a bit of a treat."
Bless This Mess Please – Caramel Apple Oatmeal
---
"A quick and easy recipe with you that will have you looking forward to the first meal of the day! In only minutes you can whip up this delicious breakfast that is tasty, filling and absolutely fabulous!"
J-Man and Millerbug- Easy Berry Oatmeal
–For a cool berry breakfast treat, try this Banana Raspberry Blueberry Smoothie Recipe.
---
"This recipe is super adaptable as you can add whatever toppings or mix-ins you fancy! Lately, I've been adding in a scoop of protein powder or peanut flour for extra protein as I've been working out like a boss and I've been adding fresh strawberries on top and I switch nut butters and mix-ins depending on what I have available at the time or what I wake up feeling like in the morning."
Southern-In-Law – Gluten Free High Protein Overnight Oats
---
"Another thing I love about this recipe? It's super customizable. You can add as much or little dark chocolate shavings, cinnamon, and unsweetened coconut flakes as you'd like. You can cook the oats with milk for a creamier oatmeal or you can cook them with water to make them vegan. Possibilities abound!"
Sweet Little Kitchen – Coconut Banana Oatmeal
---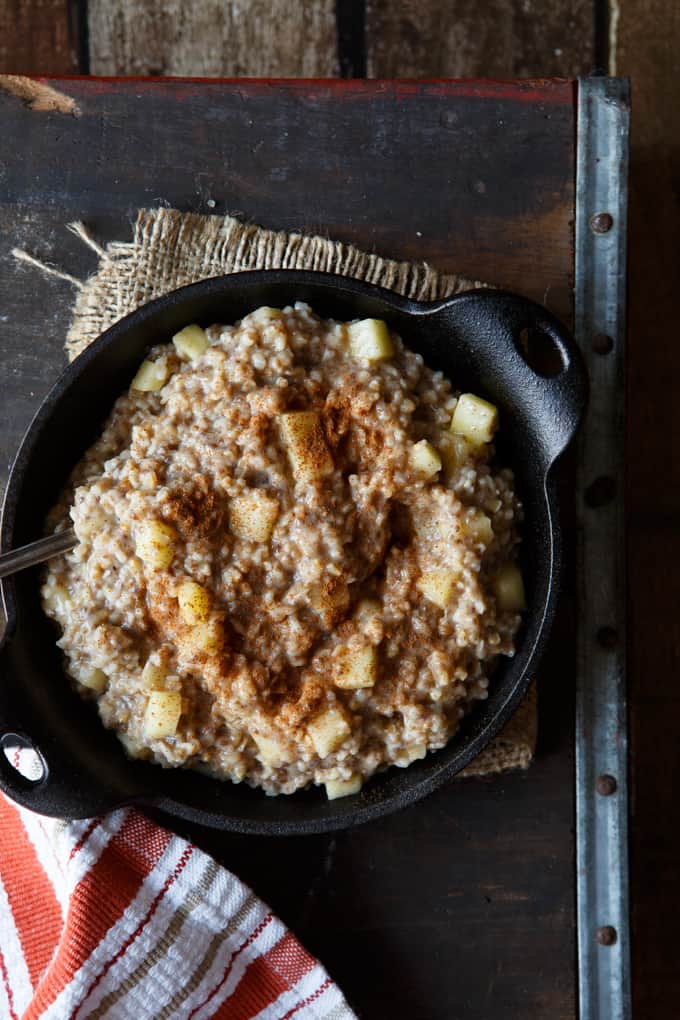 "Everyone has time to make breakfast with this recipe. You literally spend 5 minutes at the stove before you go to bed, and then you wake up to this creative steel cut oats recipe. Boom."
Shared Appetite – Easy Overnight Vegan Cinnamon Apple Steel Cut Oats
–Looking for more Make Ahead Breakfasts? These are perfect for a Busy Season.
---
"I love me a big ol' slice of carrot cake complete with a ridiculous amount of cream cheese frosting, obvi. This recipe is pretty similar to the Cinnamon Roll Overnight Oats with a few adjustments. And of course, if you are wanting to treat yourself, a dollop of cream cheese topping on top!"
Eat-Drink-Love – Carrot Cake Overnight Oats
---
"Lemon and Blueberry Cheesecake Overnight Oats combine all the very best flavors of the classic cheesecake combination into a healthy, filling breakfast recipe. Thick, creamy and full of flavor – these will become a firm favorite!"
Annie's Noms – Lemon and Blueberry Cheesecake Overnight Oats
---
"Pumpkin Week has given me a new breakfast to love. And it's made in about 5 minutes. Pumpkin Pie Oatmeal for the WIN."
The Cookie Rookie – Pumpkin Pie Oatmeal
–I love pumpkin everything! This is how I Preserve Fresh Pumpkins to enjoy that seasonal flavor all year round.
---
"An easy recipe for a healthy breakfast that actually tastes like dessert! Sweet vanilla & rich chocolate cookies = the best bowl of cozy oatmeal."
Amy's Healthy Baking – Skinny Cookies and Cream Oatmeal
---
" 'THIS TASTES LIKE DESSERT!!' And yup yup yup, it's that good my friends. Tangy, fresh, sweet, creamy, and healthy. What more could you want?"
Apple-Of-My-Eye – Strawberries and Cream Oatmeal
---
"Sweet coconut and crunchy almonds, with just a hint of creamy chocolate. All swirled together in a deliciously warm and satisfying bowl of almost-instant oatmeal … mmmmmmm!"
Two Healthy Kitchens – 10 Minute Almond Joy Oatmeal
---
"This Cinnamon Maple Walnut Oatmeal is a hot, hearty bowl of goodness. Walnuts add some protein to this breakfast, and are the perfect complement to the cinnamon and maple syrup."
My Dairyfree Glutenfree Life – Cinnamon Maple Walnut Oatmeal
---
"A few ways to serve the peanut butter overnight oatmeal, and fudgy chocolate overnight oatmeal, some outside of the breakfast box."
Parsley Sage Sweet – Peanut Butter Brown Sugar Overnight Oatmeal
---
"High in protein, no added sugar and a gluten free option– this will be the ideal start to your day. Let's not forget the topping- Don't bother hunting down mascarpone for it- you can use greek yogurt, cream cheese or even ricotta."
The Bigman's World – Healthy Tiramisu Oatmeal
---
"I know porridge and oats are usually associated with sweetness, but that's another reason why this is so cool! It's unexpected, and it just works. I've used a mix of spelt and oats, as I think they work amazingly well together for different textures and flavors."
Sprinkle of Green – Game Changing Savoury Oatmeal
---
"On days where I don't treat myself to a cappuccino I've found a way that I can still get my espresso fix and healthy breakfast, and that's with a big bowl of this Dirty Chai Oatmeal!"
Recipe Runner – Dirty Chai Oatmeal
–Make your own Homemade Cappuccino Mix and enjoy both!
---
"An easy recipe for a healthy, low-calorie oatmeal that's packed with protein and actually tastes like dessert!"
Amy's Healthy Baking – Skinny Funfetti Cake Batter Oatmeal
---
"In addition to the common cinnamon and brown sugar, they also have ginger, a bit of clove and vanilla. The combination is full of fall flavor."
Eat at Home Cooks – Slow Cooker Gingerbread Oatmeal
---
Did you find something that your family will love? Be sure and share with us in the comments which recipe you are going to make first!
Looking for even more recipes to use oatmeal in? Here are a few that we enjoy:
Find even more, easy or make-ahead breakfasts here in my article on Make-Ahead Breakfasts for a Busy Season!
What are your favorite oatmeal breakfast recipes?
These Oatmeal Breakfast Recipes were originally published on Little House Living in January 2017. They have been updated as of January 2020.